Ante Vujić, Full Professor
Department of Biology and Ecology, Faculty of Sciences, University of Novi Sad, Serbia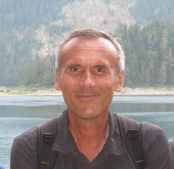 Prof. Ante Vujić teaches a number of courses in Environment and Conservation Biology at the University of Novi Sad, Deptartment of Biology and Ecology.
He has developed cooperation network including: University of Aegean, Department of Geography; University of Alicante; University of Helsinki; University of Amsterdam; Natural History Museum, Amsterdam; Zoological Museum, Lausanne and Natural History Museum, Sibiu, Romania.
His main research interests are biodiversity, conservation and taxonomy.
Ante Vujić is principal investigator at several international and national research projects:
FP7-INFRASTRUCTURES-2010-1 Distributed Infrastructure for EXPErimentation in Ecosystem Research (EXPEER) 2010-2014.
FP7, THEME 6, Environment (including climate change), Collaborative Project: (STEP) – Status and Trends of European Pollinators 2010-2014.
FP6 (ALARM) Assessing Large-scale environmental Risks with tested Method 2007 – 2009.
"Conservation strategy for protected and strictly protected hoverflies (Insecta: Diptera: Syrphidae) species in Serbia – Case study" (2011-2014) Serbian Ministry of Education and Sciences, Belgrade.
"Genetic resources in agro-ecosystems of Vojvodina" (2011-2014). Provincial Secretariat for Science and Technological Development, AP Vojvodina, Novi Sad.
"Swampy area of Vojvodina" (1996-2014) Matica Srpska, Novi Sad.
Keywords: Biology: Conservation, Biodiversity, Entomology, Zoogeography; Protected Area, Endangered Species
Email: ante.vujic[at]dbe.uns.ac.rs
Specialties:
Taxa: Syrphidae
Region: Western Palaearctic, South Africa
Disciplines: Taxonomy, Biogeography